Hand Pushed I-Beam Trolleys
Frost Inc. has Hand Push I-Beam Trolleys are made to adapt to different sized I-beams, have an extended end flange for added safety and a rugged body construction. Our Hand Pushed Trolleys also feature bolt-on load wheels for fast and easy wheel replacement. Click on the products below to see our technical data.
Notice:  All Frost Inc. Hand Pushed I-Beam Trolleys are designed and manufactured to be used exclusively for assisting in the movement of inanimate objects along a horizontal "I" beam. No Frost Inc. Hand Pushed Trolley should be used for fall protection for people.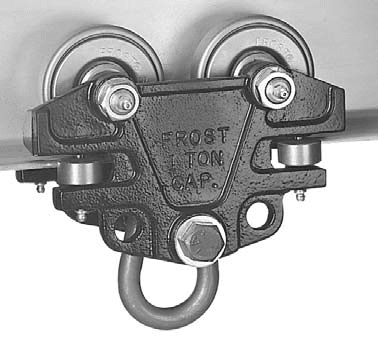 Resources