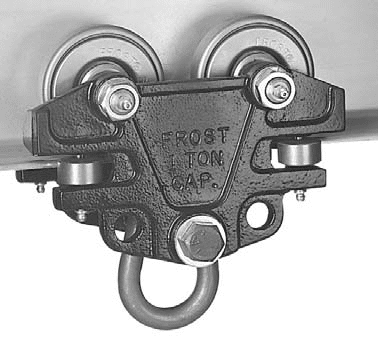 Hand Pushed I-Beam Trolleys
1 Ton I-Beam Trolleys
Frost's 1 Ton I-Beam Trolleys:
Can adapt to different size I-Beams.
Have an extended end flange fro added safety.
Have bolted style wheels for easy replacement.
Can be used in straight or curved monorail systems.
Assembly Guidelines:
Assemble 5/8" washers (060016) on bolt (0600461) to proper I-Beam Track Setting
4 inside and 12 outside for S5 x 10.0 lb./ft.
8 inside and 8 outside for S6 x 12.5 lb./ft.
16 inside and 0 outside for S8 x 18.4 lb./ft.
| Part Number | Capacity | Rail Size |
| --- | --- | --- |
| 0601400 | 1 Ton | Fits 4,5,6 and 8 Inch I-Beams |